Your cPanel is a powerful hosting manager with dozens of features. For most DataMax clients, you will cPanel as a quick and easy way to both check your business mail as well as managing and setting up additional mail boxes for employees. Most cleints will log into their dashboard at DataMax Hosting to access cPanel and mail. Since your website is WordPress and is provided with the Elementor plugin drag and drop website builder, you will likely have littel more need for cPanel. You can, however, find out much more in the video at left and below.
cPanel
Your cPanel is a web hosting control panel software developed by cPanel, LLC. It provides a graphical interface (GUI) and automation tools designed to simplify the process of hosting a web site to the website client or the "end user". It enables administration through a standard web browser using a three-tier structure.  The most common use for most Enterprise Website clients at DataMax is simply its use to manage and provide access to your business mail related to you domain.
cPanel provides front-ends for a number of common operations, including the management of PGP keys, crontab tasks, mail and FTP accounts, and mailing lists. Several add-ons exist, some for an additional fee, including auto installers such as Installation, Fantastico, Softaculous and WHMSonic (SHOUTcast/radio Control Panel Add-on). The add-ons need to be enabled by the server administrator in WHM to be accessible to the cPanel user.
How to Access Your cPanel from DataMax Hosting
The most common method to access your cPanel is to log into your account at DataMax Hosting.  From your client dashboard after login, select MANAGE and from the dropdown, select cPANEL.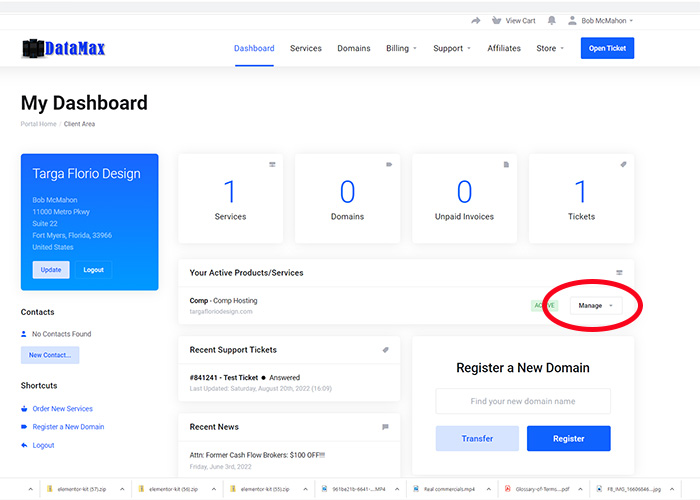 Access cPanel From Your Website's URL
You can also access your cPanel from you browser.  Enter http://cPanel.yourdomain.com  This will provide you with the login text box for cPanel.  Enter your USERNAME and PASSWORD (provided by DataMax) and enter.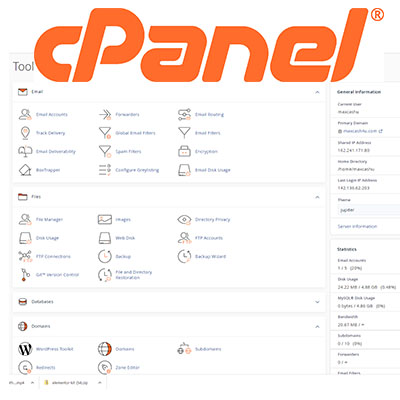 cPanel is provided for all hosting clients and is a powerful management tool.  For most clients of Enterprise website, you will primarily only use cPanel for business mail functions.  There is, however, much more to cPanel
USER DOCUMENTATION on YouTube